2015 Community Service Award goes to......
CONGRATS TO LORI!!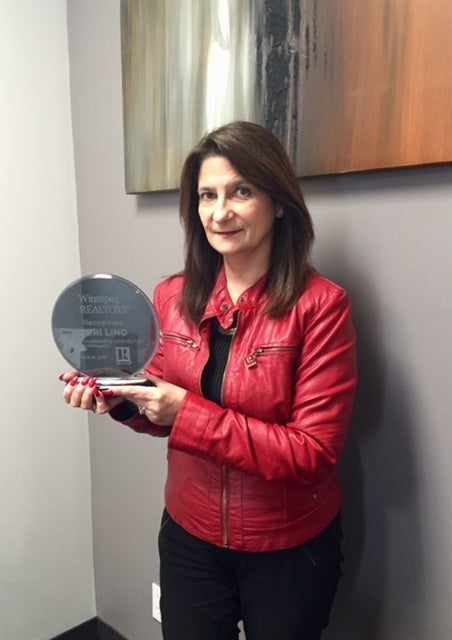 Last week, The Winnipeg Realtors Association held their Annual General Meeting breakfast at the new RBC Convention Centre our very own LORI LIND, was presented with our profession's
2015 Community Service Award!!

Lori's tireless work with the MS Society brought everyone to their feet with a heartfelt standing ovation. Lori was diagnosed with a debilitating neurological disease. She was 28 years old. Multiple sclerosis initially introduced itself to her by temporarily taking her eyesight. Over the years, it has immobilized her ability to walk and added more weight to life's normal challenges that we all face.
Lori became a Realtor and has taken the stance that she would not have to learn to live with MS, but rather MS would have to learn to live with her. Instead of focusing on herself...she set out on a journey to help others who are afflicted with this devastating disease...and to find a cause and a cure to end MS!!
For the past 23 years she has been the Captain of her Team: Mass Synergy in the Annual MS Walk for a Cure - raising over $200,000!! A few years ago she was appointed The MS Society's First MS Walk Ambassador. Last year she garnered support from her Company Realtors whereby a donation is made on each sale. In addition, as of 2015 they became one of the major sponsors, providing breakfast before the event!!

In Lori's world, Spring is a time to rally her MS Mass Synergy Team walkers to fundraise in support of a cure. Please consider walking with us in May or get on line and make a gift of hope. Log onto 2016 MS Walk (Winnipeg/Manitoba) and then donate in support of The Mass Synergy Team.

In her acceptance speech she humbly said that she had no expectations of being acknowledged, but rather this was simply something that she does. She said, " I Walk for those who can't walk for themselves."

Please join us in this years 25th Anniversary walk on May 1, 2016!!
Categories
Archives

Subscribe To This Blog